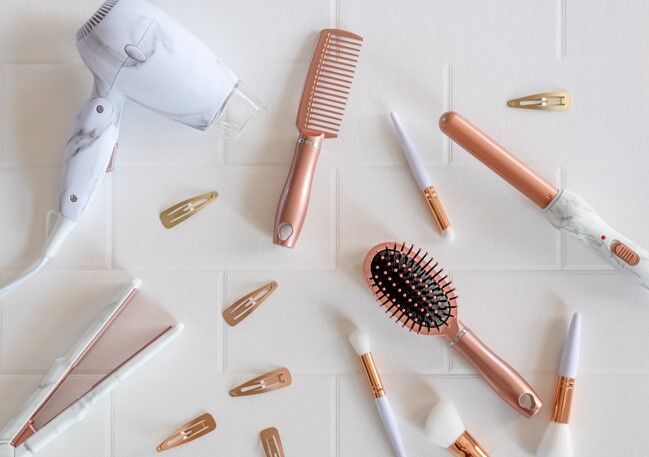 17 Jun

Hair Products to Keep Handy

All women must carry "bad hair day products" in their purses. You never know when your style could be ruined, whether it is rain, wind, or simply uncooperative. The following hair products can help you stay fashionable, even on your worst days. Please keep reading to discover what we recommend you keep handy!
Frizz Control
An anti-frizz product is one of the best remedies to prevent a bad hair day. You can use serums that aim to reduce frizz in your hair. Alternatively, you can buy shampoos or conditioners that minimize frizz. Although it's not something you can carry around in your pocket, bringing it with you on the go can keep your hair tamed even while traveling. Instead of buying a travel-sized shampoo or conditioner, purchase travel bottles and pack your own with you! A great product we carry as an Aveda Salon is the Smooth Infusion™ Anti-Frizz Shampoo & Conditioner!
Mini Hairspray
The best way to keep your locks in place is with hairspray. You don't know when your hair may start to unravel and flyaways pop up. It's always handy to have a small can with you. There's no need to carry around a bulky can of hairspray. A small bottle is all you need to prevent bad hair for those who are always on the move. At Marchelle Salone, we carry many types of Aveda Hairspray, so be sure to check out some of the products online or in-store!
Bobby Pins
Invest in a small container for storing bobby pins. The last thing you want is for them to rattle around at the bottom of your purse, making it more difficult to find them in an emergency. Bobby pins are perfect for taming unruly hair. Whether they help fix your updo that won't stay in place, or if you want to hide any baby hairs from popping up, bobby pins are a must-have.
Contact Us For More Tips on Products To Keep Handy!
Whether you're traveling with products or just want to prepare for a bad hair day, Marchelle Salone offers plenty of advice to our customers! We want you to feel and look your best and keep that salon hair intact until your next appointment. For more information on products we carry or tips on maintaining your hair, contact Marchelle Salone today at 781-641-1910.