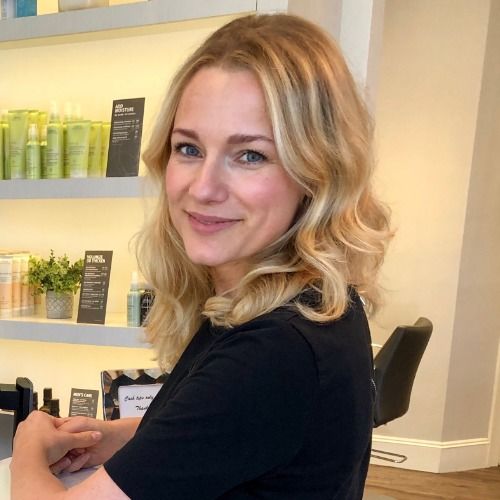 29 Sep

Get to Know Your Hair Stylist: Sabine

Marchelle Salone is proud to have so many amazing hair stylists on our team, all coming from different backgrounds in the hair and beauty industry. We're doing a "meet the team" series so you can get to know our stylists a little better. First up, Sabine!
A Little About Sabine as a Stylist
What inspired you to be a hairstylist?
I've always enjoyed doing hair. It started with my dolls, then with my own hair to doing my friends hair.
When did you get started in the field?
I was 16 years old when I started my apprenticeship as a hair stylist.
What is your experience and background?
I am from Germany and an apprenticeship to become a hairstylist takes 3 years. I finished my training in 2002 and worked a few more years in that field. I ended up going back to school and then went in to publishing. It didn't take long to realize that hairstyling is my calling!
What's your favorite thing about being a hairstylist?
Everything about it! The interaction with people, the transformation and the happy faces!
How do you try to stay up-to-date on current hairstyling trends?
I mostly keep myself up to date with social media. Following other inspiring stylists on Instagram. We also have the Aveda network to stay up to date and take online classes.
What're the most popular hairstyles you're seeing right now?
I would say bobs and lobs, bangs, shags as well as rainbow colors are very in right now.
What is your favorite hairstyle to do?
I love cutting bobs!
In your opinion, what Aveda hair product does every person need?
Nutri Plenish conditioner, Damage Remedy Split End Repair and the Hand Relief Night Renewal Serum
What is your hairstyle at the moment, and what made you choose it?
I am rocking those 70's curtain bangs right now and loving it because it softens my features
What advice would you give aspiring hair stylists?
You've got to have that passion because the job is physical and some days can be slower and discouraging, especially starting out. But you can bring it very far if you have passion for the job!
What questions do you recommend the clients ask their hairstylist during a consultation?
Ask the stylist to explain the aftercare for the new hair do! What products to use and how to style it at home.
If you could tell others one thing about your profession, what would it be?
You have to be intuitive as a stylist
What do you love about working at Marchelle Salone?
The atmosphere! It's very chill and I can truly express myself with my work. I have great colleagues and we learn from each other.
5 Fun Facts About Sabine
What's your favorite place you've traveled to?
Charleston, SC
What're your hobbies/what do you do for fun?
Going for hikes with my daughters
Favorite movie or tv show?
The show Big Little Lies
If you could eat one meal for the rest of your life, what would it be?
Ramen noodle soup
What's your favorite quote of all time?
"Don't let yesterday take up too much of today!"
Schedule an Appointment at Marchelle Salone
Sabine is an incredibly talented stylist and we're very lucky to have her on our team. She can transform your hair and give you any hairdo you're looking for! Ready to book an appointment? Give us a call at 781-641-1910 today!