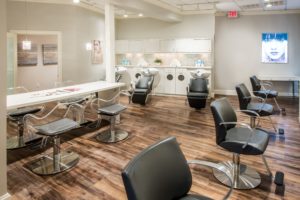 If you're in the Acton area looking for a trusted hairstylist, look no further than Marchelle Salone! Located in Arlington, our newly renovated Aveda Salon is just 20-30 minutes from Action. Many residents of Acton count on our talented hairstylists for the perfect cut or coloring. We specialize in everything from perms to balayage, keratin treatments, and beyond. Whether you just need a trim or a brand new hairdo, we're here to help! We offer a full range of hairstyling and beauty services, including makeup applications for special occasions and waxing services. Keep reading to learn more about our hair and beauty salon!
Aveda Salon Near Acton MA
At Marchelle Salone, we're proud to be an Aveda Salon, meaning we exclusively use Aveda products, so you can feel confident knowing that the products are not only nourishing your hair but are also environmentally friendly. Aveda products utilize the power of plants to deliver results. There are no petrochemicals, nitro dyes, or parabens used in their products. Learn more about Aveda's commitment to the environment, and why we choose to use their products here!
Men's & Women's Haircuts, Coloring & Styling 
We're proud to offer a full range of men's and women's haircuts and styling services. Trained in the latest hair styling techniques, you can count on our stylists to give you just the look you want from balayage to highlights, full color, and beyond. If you're looking for some change in your life, a fresh hairdo may be just what you need. If you know exactly what you want, we recommend you to in inspirational images, or if you're unsure what will look best for your hair type, let our stylists get creative! They're sure to give you a look that'll complement your face shape and coloring.
Special Occasion Makeup 
As a beauty salon, we also offer makeup applications using Aveda's makeup line. If you have a special occasion coming up, such as a wedding prom, or formal, let our artists do your makeup for a perfectly glammed look! We offer complimentary same-day makeup application when you make a $50 makeup or skincare purchase. We also do bridal makeup, including a trial run for $125. We also offer makeup lessons for $100 to teach you our techniques! 
Schedule an Appointment at Marchelle Salone
Ready for your next hair appointment? You can count on our hair stylists at Marchelle Salone! Our salon offers the perfect environment to relax and rejuvenate. We guarantee you'll leave feeling refreshed. Give us a call today at 781-641-1910 to schedule your next hair or makeup appointment.