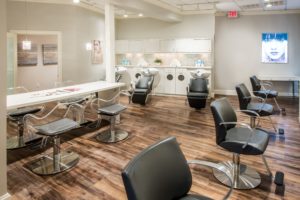 Brighton is a neighborhood of Boston, located northwest of the city. With nearly 43,900 residents living here, it's a growing neighborhood with a suburban feel and close proximity to the city. It's even been ranked as one of the best neighborhoods in Boston to raise a family! If you're a Brighton resident looking for a trusted hairstylist near your area for the whole family, check out Marchelle Salone! We offer men's, women's, and children's hairstyling services, ranging from haircuts to coloring, and beyond. Our newly renovated Aveda hair salon in Arlington is only about a 20-minute ride away – and fully worth the drive! Keep reading to learn more about the hairstyling and beauty salon services that we offer near Brighton. 
Men's & Women's Haircuts, Colors & Styling 
At Marchelle Salone, we're proud to offer a full range of men's and women's hairstyling services for clients of any age. Whether you're just looking for a simple haircut, coloring, or want to try out a totally new hairdo, our talented stylists can help! As an Aveda concept salon, we exclusively use products that nourish your body and are also easy on the environment. You can feel confident knowing that these products are derived from plant power and don't contain the harmful chemicals that are found in many other air products. So whether you want highlights, a full balayage, or a single color process, you can feel good about your colored hair. No matter what your hair goals are, our talented stylists can recommend the best Aveda products for you. For example, if you're looking to get fuller hair, you may want to check out the Invati Advanced hair loss treatment from Aveda. Or, if you want to repair damaged hair, the Damage Repair Remedy line may be suitable. Check out our blog post to learn more methods for repairing damaged hair here. Most importantly, regular visits to the salon will keep your hair healthy and fresh! 
Beauty Salon Services near Brighton
As a full-service beauty salon, we also offer makeup application and waxing services. If you have a big event coming up, such as a wedding or formal, let our Aveda makeup artists get you ready for the special day! We use application techniques to best suit your facial features and enhance your natural beauty. Our artists will give you a beautiful glow for the occasion. Additionally, our waxing services at Marchelle Salone include brow shaping, chin, eyebrows, and upper lip. 
Book an Appointment at Marchelle Salone
Ready to upgrade your hairdo? Our stylists are here to help! To learn more about any of our hair or beauty services, book an appointment at Marchelle Salone! We look forward to seeing you in the salon soon.