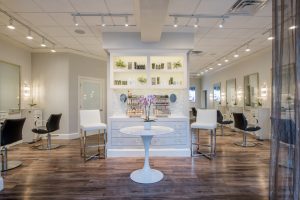 As a beautiful city in the Middlesex County of MA about 7 miles west of Boston, Newton is home to nearly 89,000 residents. If you're a Newton resident and looking for a trusted hair salon in the area, you can count on Marchelle Salone! As a local, family-owned business in Arlington with more than 50 years in business, you can count on our talented team of stylists for quality haircuts and styling services. Our Aveda Salon is just 10-15 miles away, and well worth the trip! Our newly renovated beauty salon is the perfect spot to rejuvenate while getting a fresh new hairdo! Whether you're in need of just a quick trim, full color, keratin treatment, or hairstyling, we can do it all! We provide men's and women's haircuts, colors, balayage, and beyond. As an Aveda hair salon, we use products that are easy on the environment and nourish the mind and body. Keep reading to learn more about our beauty salon services and why many of our clients come from Newton! 
Men's & Women's Haircuts & Styling Newton MA
At Marchelle Salone, our talented team of hairstylists specializes in a full range of men's and women's haircuts, coloring, and styling services. Our stylists are trained in techniques such as perms, balayage, keratin treatments, and nearly any hairstyle you could ask for. During the first consultation with your stylist, we'll ask questions about your current style, what you've done with your hair in the past, and what you're currently looking to do with it. If you know exactly what you want, we invite you to bring in images to share with your stylist. If you're not fully set on what you're looking for, let our stylists get a little creative! Either way, we're sure you'll leave our salon loving your new look. Additionally, we offer Aveda products for sale at the salon so you can recreate that salon-fresh look at home yourself every day! If you're unsure which products are best for your hair type, your stylist will be able to assist you. Check out our recent blog to learn more about why we choose to use Aveda products, and how they benefit you and the world around us. 
Bridal Makeup & Waxing Services Newton MA
We also offer makeup applications for brides and bridal parties, proms, and formals. If you have an event coming up, book an appointment with our Aveda makeup artists! They'll be able to personalize your look, matching your makeup to your skin tone and features. When you make a $50 makeup or skincare purchase, we'll do the application for free! We also do make-up lessons and a trial run for bridal makeup, to ensure you'll love your look on the big day. Lastly, we also offer waxing services. 
Book an Appointment With Our Hair Stylists at Marchelle Salone
Ready to book an appointment with our talented stylists at Marchelle Salone? Give us a call at 781-641-1910. We look forward to seeing you in the salon soon.