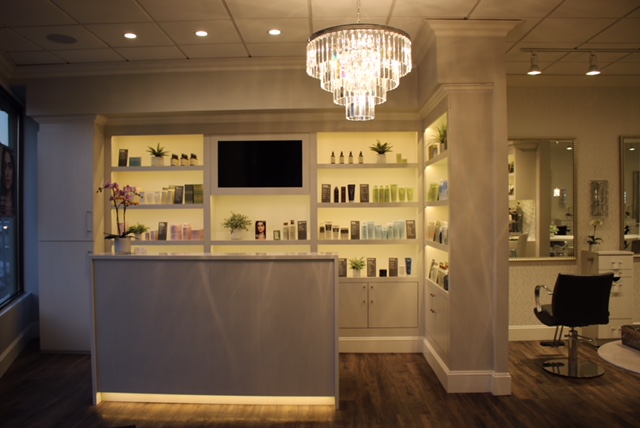 If you're living in the city of Boston and looking for a trusted hairstylist in a beautiful, relaxing salon, you can count on Marchelle Salone! Escape the hustle and bustle of the city streets for a few hours, and venture over to our newly renovated modern salon in Arlington MA. Getting your hair done should be a rejuvenating experience, and enjoying it in a quiet, peaceful atmosphere will make it that much more refreshing! Our family-owned salon has been in business for more than 50 years, serving loyal customers from the Boston area and beyond. If you're in need of a fresh haircut, coloring, or styling, our talented stylists will be able to give you just the hairdo you're looking for. We offer a full range of men's and women's hairstyling services, waxing services, and makeup applications for special occasions, including bridal makeup.  
Men's & Women's Haircuts, Coloring & Styling Boston MA 
Whether you're looking for a simple trim or a brand new hairdo, you can trust our stylists at Marchelle Salone to give you just the right style! We offer men's and women's haircuts, coloring, and styling. Our stylists are trained with the latest techniques, including balayage and keratin treatments, while also offering gorgeous perms, highlights, partials, and beyond. If you know exactly what you want for a style, we encourage you to bring some inspiration photos to share with your stylist during the consultation. If you're unsure what you want but need something new, let your stylist have some fun and recommend what will look great for your specific hair type, face shape, and style! You're bound to leave the chair feeling refreshed and confident with your new hairstyle. Our hairstyling services in Boston include, but are not limited to:
Hair wash, cut, and blowdry

Bang Trim 

Men's Haircut 

Balayage

Keratin Treatments

Full Highlights

Partial Highlights 

Single Color Process

Toner

Corrective Color 
Why Aveda? 
As an Aveda Salon, our clients come from all over to reap the benefits of plant-based color and products. Aveda is now 100% vegan, deriving their products fully from plants, meaning they're easier on your hair and the environment without any harsh chemicals. These products not only help to reduce damage in your hair, but also condition your hair, improve strength, and add a gorgeous natural shine. Aveda takes a holistic approach to caring for the body and mind, so you'll notice that Aveda salons offer aromas of nature and earth. The goal is to leave feeling rejuvenated and refreshed while promoting natural healing. Learn more about why we choose Aveda, and you should too! 
Book an Appointment at Marchelle Salone 
Ready to refresh your 'do? Our stylists at Marchelle Salone are here to transform your look! Give us a call today at 781-641-1910 to book your appointment.