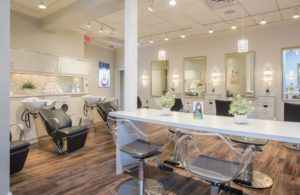 Lincoln, MA is a quaint town located in Middlesex County. With only 6,400 residents, Lincoln is a beautiful suburb to Downtown Boston. Coffee shops and restaurants are abundant in Lincoln, MA, but if you are looking for a trustworthy and experienced hairstylist, turn to Marchelle Salone just 10 minutes away in Arlington, MA! At Marchelle Salone, we offer a wide variety of  men's and women's hairstyling services and beyond. From coloring, to haircuts, trims, waxing and facials, these are just a few of the many salon services we offer at our newly renovated Aveda Salon in Arlington! Keep reading to learn more about why many residents from Lincoln count on our wonderful stylists at Marchelle Salone. 
Men's & Women's Haircuts, Coloring & Styling Near Lincoln, MA
At Marchelle Salone, we want everyone to feel comfortable with themselves and sometimes that means changing up your hair, or just refreshing! Whether you  want a brand new hairdo and know exactly what you want, or are willing to let your stylist get a little creative, you can count on our team! Our stylists are trained in the latest techniques to give you just the right 'do for your hair type. At Marchelle Salone, we exclusively use Aveda products because we truly care about the health of all our customers' hair as well as the environment! We offer men's and women's haircuts as well as coloring services including full color, highlights, and balayage. We also offer perms, keratin treatments and so much more! View a full list of our hair services and pricing here!
Mini Facials & Waxing Services 
Not only do we offer hair services to help our customers' feel confident but we also offer mini facials. Our facials work to rejuvenate and exfoliate the skin and in just 30 minutes you will feel like a new person! In addition to facials, Marchelle Salone offers waxing services focusing on eyebrows shaping and waxing, chin and upper lip. Come into our salon today to learn more about our facials and waxing services!
Book an Appointment at Marchelle Salone
If you are looking for a new hair salon in the Lincoln, MA area, visit our talented team of stylists at Marchelle Salone! Our newly renovated salon is the perfect place to relax, rejuvenate, and get an upgraded hairdo. Give us a call at 781-641-1910 today to schedule an appointment! We look forward to seeing you in the salon soon!